Minimum charge of £210 applies for party packages.
A fun-filled birthday punting trip with a 60 minute College Backs tour, tasty cake, helium balloons and lemonade. Please note that a minimum charge of £210 applies to this booking.
Birthday Punting
Our birthday party punting experience is the best way to celebrate your birthday in Cambridge, with the option of adding champagne or Pimm's and lemonade for adults. Your guide will treat you to a luxurious private punt tour of the beautiful College Backs from our Mill Lane Punting Station.
The birthday punt will be decorated with balloons and you'll be treated to a scrumptious cake from the Fitzwilliam Courtyard Café as you sip chilled lemonade. Choose from the following delicious birthday cakes:
Victoria sponge cake
Carrot cake
Chocolate fudge cake
Orange & polenta cake (gf)
Your chauffeur will wear seasonal uniform according to the day's weather. Our punts can seat up to 12 people and come with cushions and blankets for your comfort. Punts are equipped with extra blankets as well as umbrellas in case the weather changes.
Birthday Punting Tours can be taken from our Mill Lane Punting Station and must be booked a week in advance. For last minute booking availability please contact our Bookings Team.
Cocktail Punting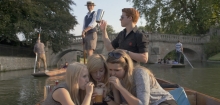 Party along the College Backs with your very own Chauffeur and Mixologist – it's a Revolution!
Contact
Cambridge
01223 359750
enquiries@scudamores.com
http://www.scudamores.com/